ASUS Republic of Gamers Announces Launch of Latest ROG Strix SCAR 16 and SCAR 18 Laptops
Publication date: 07.04.2023 00:00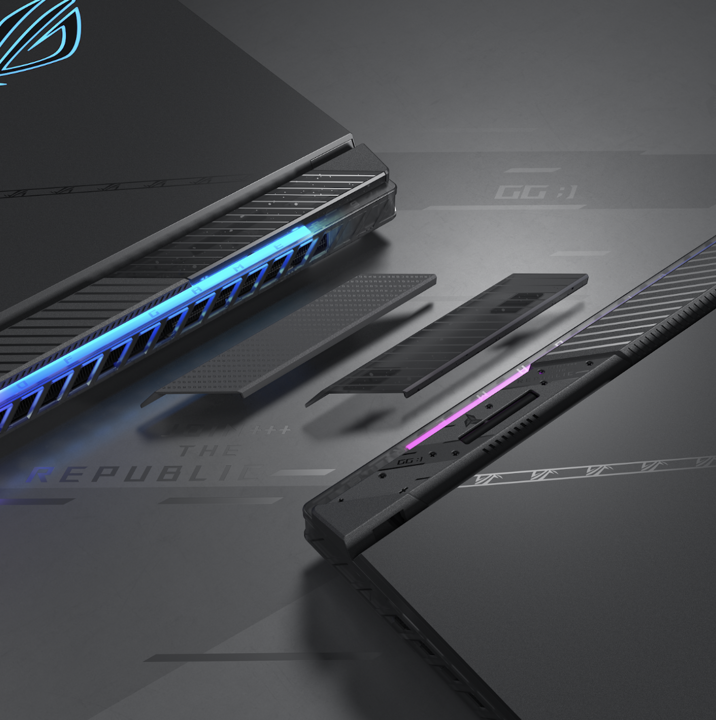 ASUS Republic of Gamers Announces Launch of Latest ROG Strix SCAR 16 and SCAR 18 Laptops
2023 Strix SCAR series laptops feature new luxury 16" and 18" displays, latest generation hardware and improved cooling
MAIN
• ROG's most powerful laptops for the most demanding games, with up to 13 Gen Intel® Core™ i9-13980HX processor and NVIDIA® GeForce RTX™ 4090 laptop graphics
• ROG highlights contest: a chance to win the top ROG Strix SCAR 16 laptop for the best highlights from games
• ROG KING CUP-2023: 5:5 online CS:GO tournament with $4000 prize pool
April 04, 2023 — ASUS and its brand Republic of Gamers (ROG) announce the start of sales in the CIS countries (Kazakhstan, Armenia, Moldova, Kyrgyzstan, Uzbekistan, Tajikistan, Turkmenistan, Azerbaijan) of new models of Strix SCAR gaming laptops. The Strix SCAR 16 and Strix SCAR 18 laptops have received a completely redesigned design. Powerful, state-of-the-art components, combined with stunning ROG Nebula and Nebula HDR displays and ROG's advanced Intelligent Cooling System, give the 2023 Strix SCAR laptops everything they need to excel in professional and amateur esports.
The new models are the most powerful ROG gaming laptops yet. They are built on the latest generation of Intel® processors and NVIDIA® graphics cards. Strix SCAR 16 and 18 models are equipped with an Intel® Core™ i9-13980HX CPU (24 cores and 32 threads) and an NVIDIA® GeForce RTX™ 4090 laptop graphics card with up to 175W TDP. The total thermal package of the central and graphic processors in these laptops reaches 240 watts. The display multiplexer and support for NVIDIA Advanced Optimus technology allow you to get the optimal frame rate in games when connected to power or save battery power when working offline.
The ROG Intelligent Cooling System with Thermal Grizzly Conductonaut Extreme Liquid Metal Thermal Interface and 3 fans features an oversized full-width heatsink with a 92.23% increase in surface area compared to 2022 models.
Gorgeous 16" or 18" ROG Nebula displays deliver superior brightness, responsiveness and color reproduction. ROG Nebula HDR, which can be equipped with Strix SCAR 16, has 1024-zone mini-LED backlighting and brightness up to 1100 cd/m2.
ROG Highlights Gaming Highlights Contest. Grand Prize - ROG Strix SCAR 16
To support the launch of the latest Strix SCAR 16 and 18 gaming laptops, ASUS is hosting the ROG Highlights gaming highlights competition. The grand prize is the latest flagship ROG Strix SCAR 16! Make a video with bright, cool and dynamic moments from the game, upload it to the contest website and become the best! The well-known esportsman and CS:GO player Mikhail "Dosia" Stolyarov, the champion of the 2017 Major tournament, will serve as the jury of the competition.
The competition is held in the countries: Kazakhstan, Armenia, Moldova, Kyrgyzstan, Uzbekistan, Tajikistan, Turkmenistan, Azerbaijan from April 04 to May 10, 2023. The results of the competition will be summed up on May 17, 2023.
ROG Strix SCAR is the coolest vehicle for the most exciting gaming moments!
Official website of the competition https://rog.events/
New season of the ROG KING CUP-2023 gaming tournament with a prize pool of $4000
Simultaneously with the start of sales of new ROG products under the auspices of ASUS, the next ROG KING CUP 2023 CS:GO tournament will be held for all computer game fans and professional cybersportsmen. The competition will be held online among participants from the following countries: Kazakhstan, Armenia, Moldova, Kyrgyzstan, Uzbekistan, Tajikistan, Turkmenistan, Azerbaijan.
Tournament format: 5*5 Counter-Strike: Global Offensive, online. Participation in the tournament is free and open to everyone.
Registration: from April 4 to May 7 at 12:50 Moscow time on the tournament page: https://rogcup.com/
The tournament is held in two stages: May 7, qualification (single elimination, bo1); May 13-14, playoffs (Olympic system (single elimination, bo3)).
Prize fund
1st place — $2000 cash prize, five sets: ROG Harpe Ace Aim Lab Edition mouse + ROG Hone Ace Aim Lab Edition mouse pad; 2nd place - $1,000 cash prize.
We wish good luck to all participants!